General Property Renovations and Refurbishment in Manchester
Have you just bought a new home that needs a complete property renovation in Manchester or is your old home starting to show its signs of age and needs a complete building refurbishment in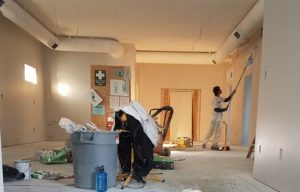 Manchester? We can provide a complete house renovation service in Manchester. We are a well equipped house renovation company in Manchester with access to the best of equipment and building knowledge to make your property structurally safe and look like its brand new again.
We have built a strong reputation for providing a quality house renovation service and are widely considered to be quality property refurbishment company in Manchester.  We offer a wide range of building refurbishment skills which can be applied to almost any jobs that could be asked of us.
Some of our property renovation skills include, but are not limited to
Extensions Building
Are you out growing your home? Buying a new one is a huge decision but making your current one bigger is cheaper and can add more value onto your property higher than the cost of the job. We are the company for you, we have highly trained professionals to ensure your extension is built within regulations, at the highest of quality and within the affordable budget.
Landscaping
Getting bored of your garden or do you need a complete over haul? We have the skills and work force to give your garden a makeover of dreams. Our planning and unique design will give you a fresh new look that's built with quality to last the test of time.
Roofing
Do you have water leaks in your home? Or do you need a complete roof re-cover? No matter what your needs are, we have the solution. We can complete any roofing job from the smallest to the largest, with professional evaluation we can pin point entry zones to any leak and repair as needed making your home water tight again. Our roofing service will give you a peace of mind that any new renovation roof work has been carried out by professionals. You can find out more about our roofing services here.
Flagging
Are you tired of the English weather making your grass wet, muddy and a nightmare to cut, well why not have a patio installed? You can eliminate being kept off your garden by the rain and stop worrying about mud in the house. A patio is a perfect surface for group gatherings, table and chair sets and will last the test of time. No need to cut the grass and no more mud.
Block paving
Are you thinking of getting block paving? You can really make your garden pathways stand out from the crowd with block paving. Stop mud tracks being created through your garden by paving high foot traffic areas. Create sharp sleek edges that add a distinctive style around your garden. Even fill the sides with stones to add an extra subtle touch to the finish.
Driveways
It's a well-known fact that first impressions make the best impact and the first thing anyone see's when arriving at your home is your driveway. Having your driveway re-built by laying stones or even block paving will create a much more pleasant feeling to you and anyone else who enters your garden.
Feature brickwork
Why stick with the average features around your garden? Whether you need a unique wall or garden seating area you will be amazed at what style and space can be achieved using bricks. We can construct garden seating areas that create a space to spend time with friends and family bringing the indoors outside. Day or night our feature work will create a visual master piece to your garden.
Garden fencing
Is your fence old and rooting or do you have a hedge that you want removing? We can re-build your garden fence and bring it back to life making it look as good as new. If you have a hedge you can save a good foot of space each side of your garden by having a fence installed. Remove the need for regular hedge pruning and create a new fresh clean look to your garden.
Drains
Are you finding it hard to battle against the weather and keep those puddles off your drive? Installing sufficient drains in the low areas of any water tight surface is key to successful drainage. Get rid of those puddles, stop moss or algae growing, eliminate the need to sweep water away and improve the overall life span of your outside surfaces.
Stonework
Stonework is where our heart is, we can recover old stone walls by sand blasting old surfaces away bringing the fresh hidden interior back out again making your house or garden walls look brand new again. We can also build stone walls and features from scratch for any purpose such as garden containment and house construction.
Garden features
Installing some new turf just isn't enough to make your garden a place you can really relax. Garden features will make your garden stand out and bring a more interesting feel to its look. Adding garden features really helps you enjoy the time you spend outdoors and gives you a personal sentimental attachment.
Summer houses
Are you looking for an innovative area to relax? A summer house is an amazing addition to add to your garden and brings a multitude of benefits. It can be a games room for kids, gathering area for you, your friends and your family and on those nice days you can open the doors while relaxing in the shade.
External And Internal Decoration
As an quality building and refurbishment contractors, you can be assured of only quality products being used on your property. Our highly skilled decorators are specialists in period and listed building decorating, renovating and refurbishment. All of our workforce are considered 'time done' workers who have been in the trade for a considerable amount of time and are hired for their sheer skill. This will always reflect in the quality of our work.
Plastering And Rendering
It does not matter if your property needs a full re-plastering internally or rendering externally, we have the skills and the team to provide this service for you. All of our work will be completed to the upmost specifications and our plaster finishing is second to none.
Joinery And Carpentry
We employ a highly skilled team of carpenters and joiners who have utilised their skills to provide stunning kitchens and bathrooms for our clients. We have on our team fully qualified Gas Safe engineers and NICEIC qualified electricians. This enables us to be able to offer a complete bathroom and kitchen installation service that will be fully certified.
Chimney rebuilding
If you need an old chimney re-building or a new one constructing we are the company for you. If a chimney is unstable or leaning it is extremely dangerous and needs to be assessed immediately. Chimney stacks can weight in access one thousand kilograms and if one falls on a windy day you may find it on the living floor and be able to see the sky when you look up
If you have an upcoming project that you would like a free quotation for then feel free to get in contact by the phone number or email address at the bottom of the page and we can arrange to give you a quote for your project.