This level of Planning Application Service in Manchester uses the full power of the very latest architectural software, to provide a 21st Century Service that includes not only 3D views to assist at the planning stage, but a Virtual Reality model of your proposal, that can be viewed on an iPad or computer.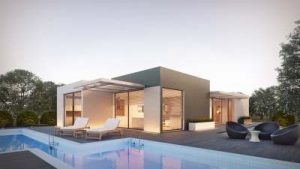 The 3D views are great for displaying the form of the building, and for explaining exactly what is being proposed. They are far easier to understand, as they are more realistic than the traditional flat elevations.
As mentioned above, we can also easily provide you with a Virtual Reality file for our clients in Manchester that can enable you to literally fly around the property, or walk around the internals using your iPad or computer.
The 3D model also enables us to see what 'actual' space is created, so we can ensure that layouts are maximised and are functional.
Due to the accuracy that we like to work to, we usually recommend a full measured survey of the property to ensure the 3D model is as accurate to the original as possible.
Following discussions with you, our client, we will create a number of feasibility plans giving you alternative options that meet your needs.
Once we have agreed upon a layout, we will then workup the model in a style that takes on board your comments, and meets what we believe the local planning authority would accept.
When you are happy with our proposal we will put together a full planning application set of drawings and forms, and submit electronically.
When the application is submitted we will fully liaise with the Planning Authority to ensure as smooth a process as possible, and acting promptly upon any communications or directions received.
Our preferred method of communication is via email, as well as the computer model, we will send you proposals on A4 PDFs to enable easy printing, and keep you fully updated throughout the process.
Our initial quote will cover ALL of our costs to take the project through to a decision – as long as the process follows the path detailed above, there will be no additional add-on costs.
Who should use this level of service?
When the client wants to have a good understanding of the proposed layout and design, the 3D computer model enables you to fully explorer from the comfort of your sofa.
For contentious or complicated applications where imagery from a 3D computer model can be used as a strong and powerful planning tool.
Where the client wishes to make best use of all spaces, a 3D computer model enables us to see in reality what space is available, whether it is usable, and how it interacts with other construction components (i.e. can you stand at the toilet or in the shower, does the door hit the underside of the roof or stairs).
When a proposal is to work within or adjoin and existing structure, using a 3D model we can often create simpler use or detailing during the design stage, that could result in easier and more cost effective construction when building.
If later on you require illustrations, presentations or animations of your project, this service level will make production of such imagery cheaper, as the basic model already exists.
What projects are not suited to this service level?
None – This service level is suitable for all project types as it encourages accuracy and understanding.
All Planning Service Applications commenced before the end of June 2014 will receive a 3D Print of their Proposed Building.