Prefabricated steel frame metal buildings UK
Prefabricated metal buildings for sale in UK have become very popular in the past few years. Because all the components are metal and in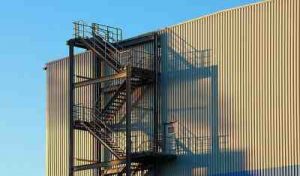 prefabricated sections the sale cost of prefabricated metal buildings is much lower than that of wood or concrete buildings.
Pre-engineered steel frame buildings are designed by expert engineers and are guaranteed to be of a superior, versatile product.
Uses of Prefab Steel Buildings
These products have countless uses including commercial use such as barns, storage for heavy equipment, stables, kennels, as farm buildings, and for crops. The structures can be used to store heavy equipment, provide additional office space, or to operate a business out of such as a wood or welding shop, or even garage. Below is a small list of uses of prefab buildings:
Build A Workshop – do you sweat out your stress by building wooden furniture or other pieces? Do you make extra income from this hobby? Turn your hobby into professional profits by setting up a specialised space to work in. A steel building allows you the leniency to complete this with ease.
Build a Home Office – do you telecommute from home? The concept is not as taboo as it once were, given the increasing levels of internet use, and the ability to work on the go. It's convenient, it saves time and gas from commutes, and it allows home workers to somewhat balance work and family life.
There are pros and cons of this setup, but one thing that experts agree on is that a professional space is usually needed to promote an office feel, instead of wiling the day away on the computer, in your pyjamas, or watching TV for instance. Set a schedule that will likely mimic office times. A small steel building can be used for this purpose, if you don't have an extra room in your home. Additionally, tax credits can be received at the end of the fiscal year when there's a dedicated space setup for work alone.
Man Caves – do you enjoy your family life but long for the days when you were single, carefree and could do anything you wanted in your own space? You can have it all with a man cave that's setup in the back of the yard.An extra guest room – do you like to place host to friends and family members? You're able to setup stylish and luxurious detached rooms or guest homes with the help of prefabricated metal buildings.
A garage  – may seem as though it isn't necessary, but this could be further from the truth, especially when you have valuable transportation that needs to be protected against the elements. As an example, a car that's left out in the sun or rain all day long will succumb to oxidation. Though you will need to invest in the cost of the metal building setup, you will also be saving money by prolonging the life and beauty of your vehicle. A garage can be used to store RVS, cars, Quad Bikes, boats and more. It can also double up as a storage space in most cases.
Regardless of the space that you're creating, you will likely need to take measurements for the backyard space, ask an in-field consultant to head to your home to make accurate measurements and quotes, as well as request planning permission from the local planning department in your state. In addition, following the setup of the building, there will need to be an inspection completed to legally keep and use the structure in most case.
So whatever your requirements, Pre-fab steel frame buildings can be specifically designed to accommodate practically any purpose. So whether need a building for a residential home in Manchester or for use as sheds, garages, and even for home additions, give us a call for assistance. Therefore, no matter what your needs are, a pre-engineered metal building should meet all of your requirements.
Benefits of Metal Frame Buildings
Once your pre-engineered metal building has been erected on your property by a contractor you have hired, you will soon realise that these metal buildings are and have proven to be sturdier than most wooden buildings. In addition, depending on the foundation system you use, your building may be portable. This can be very beneficial if it has to be moved. Ready made steel frame buildings can be assembled quickly depending on the particular model you have chosen.
Prefab metal structures are relatively easy to assemble when compares to traditional construction and offer the benefits of easy expansion as well as durability with minimal maintenance. Which may account for the growing number of warehouses, storage buildings, sheds, barns, stables, workshops, as well as retail stores, office buildings, residential homes, aviation hangers, garages, churches, and schools are prefabricated metal buildings. Ready made metal structures are available in an array of sizes and colours. It is the strength that the steel provides that offers both long-lasting durability as well as security, protecting both you and your items and what protects the metal building from the elements is a tough acrylic finish that completely coats the building.
However, the protection doesn't stop here. The majority of prefabricated metal buildings are made from galvanised steel and Galvalume®, which is a type of steel that has been coated with aluminium-zinc. Aluminium-zinc coatings protect metals against corrosion, and rust.
When considering purchasing a prefabricated metal building, you will be happy to know that countless steel frame companies in Manchester offer such options as bullet-resistant construction and windows, security screens, speaker systems, through-wall drawers, non-combustible materials, climate control options, overhead doors, liner panels, sliding doors and windows, canopies, roof extensions, vents and many more options and accessories.
When choosing any prefabricated metal building, make sure that it meets the building codes and guidelines of your region.
If you don't have the time or just don't want to bother with the construction, most major pre-engineered metal building companies will provide a contractor to construct your steel building system at an extra cost. You also want to choose a reputable manufacturer who will give you all the details in writing.